Hiking holiday at the Schliffkopf in the Black Forest
Hiking with fantastic views in the midst of untouched nature

If you love being out in nature, breathing fresh and pure mountain air and walking through unspoilt landscapes with far-reaching views, then hiking here in the Black Forest in the heart of the nature reserve and national park is highly recommended!
Located in Germany's largest nature park, in the middle of the Schliffkopf nature reserve, connected by the most beautiful holiday road, the Schwarzwaldhochstraße, this is exactly where the "Ruhestein scenery" is to be found. It is home to rare plants and animals, habitat for caperaillie, red deer and adder, but also for the Black Forest's widely known grazing cattle. Discover the Black Forest National Park on many hiking routes, such as the well-known Westweg or Seensteig.
Our "hiking-in-the-Black-Forest" service for you
Free rental of hiking sticks & backpacks
Tips & maps for your hike in the National Park
Lunch package for the little refreshment on the way per request (against a small fee)
Free bus transfer with your KONUS-card
Since
01. May 2021
, the National Park busses (feeders) also complement the National Park Regiobus routes and thus offer a comprehensive public transportation network for your hike in the National Park region. It also opens up the possibility of an enjoyable, car-free journey to the Wellness & National Park Hotel Schliffkopf.
To the bus connections as pdf (valid from 01.05. to 30.11.2022)
You can find a map of the route network
here.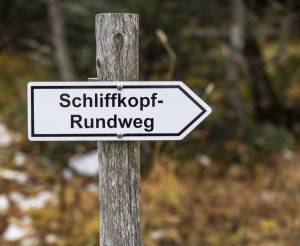 Schliffkopf trail
The 1,5-hour circular trail over the Schliffkopf summit not only impresses with its flora and fauna, especially the breathtaking view at 1.053m is worth the easy climb of the mountain.
Special recommendation: In summer, enjoy the sunrise with a delicious coffee to start the day and/or the sunset with a glass of sparkling wine to end the day.

Distance from Nationalpark-Hotel Schliffkopf: Tour starts from the Schliffkopf car park

Further details can be found on the website of our partner, the Black Forest National Park:
The Schliffkopf trail in detail - Black Forest National Park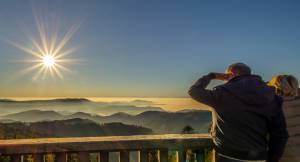 The 1.000m trail
The 1,5h 1.000m trail leads from Schliffkopf via the viewing platform at Steinmäuerle to Ruhestein. The trail mainly leads along the 1.000m altitude line.
Special recommendation: Treat yourself to a refreshing chairlift ride at the Ruhesteinschänke and afterwards let the exhibition in the National Park Centre take you on a journey about the Black Forest National Park.

Distance from Nationalpark-Hotel Schliffkopf: Tour starts from the Schliffkopf car park

Further details can be found on the website of our partner, the Black Forest National Park:
The 1.000m trail in detail - Black Forest National Park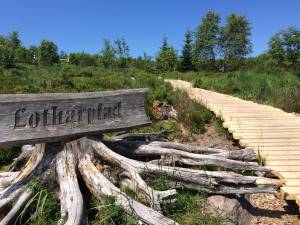 The Lothar trail
The 900m long trail shows the damage caused by hurricane "Lothar" in 1999. Footbridges, ledders and stairs have been integrated into the storm-damaged landscape, making the trail an experience for young and old alike.
Special recommendation: Start your tour from the Schliffkopf car park and take an adventure break at the Lothar trail. You can return to the hotel by foot or bus.

Distance from Nationalpark-Hotel Schliffkopf: 3,5 km. 

Further details can be found on the website of our partner, the Black Forest National Park:
The Lothar trail in detail - Black Forest National Park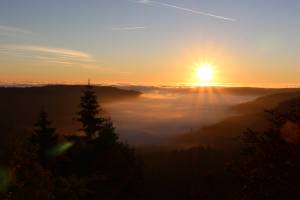 The Wild Lake view
The 2-hour walk leads from the National Park Centre up the hillside to the Seekopf. There, embedded in the Schönmünztal, the "Wild Lake" is located. You then return to the National Park Centre. 
Special recommendation: Enjoy the peace and seclusion of the Wild Lake and treat yourself with a Black Forest Vesper before returning to the National Park Centre.

Distance from Nationalpark-Hotel Schliffkopf: 4,5 km. 

Further details can be found on the website of our partner, the Black Forest National Park:
The Wild Lake view in detail - Black Forest National Park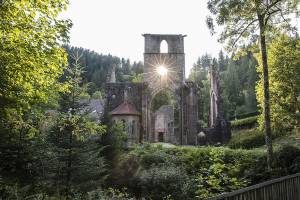 The Allerheiligen Waterfalls
You start the 5 km walk from the Allerheiligen monastery ruins downhill towards Ottenhöfen. From Ottenhöfen train station you can take the bus to the National Park Centre or the numerous steps up back to the monestary courtyard.
Special recommendation: Along the way you can learn about the various legends concerning the Allerheiligen Waterfalls.

Distance from nationalpark-Hotel Schliffkopf: 12,5 km. 

Further details can be found on the website of our partner, the Black Forest National Park:
The Allerheiligen Waterfalls in detail - Black Forest National Park